* Appeal to xenophon@vnet.hu e-mail address for more information about the frozen semen.
---
There are few words about Aktion
The F1-product Pion (Throughbred x Gelderlander) has jumped internationally himself and is one of the best stallions in the KWPN. By far his most successfull son is the KWPN stud stallion Aktion (Pion x Akteur), a 75% Gelderlander/Groninger horse. Aktion is after the F1-product Ideaal (Doruto x Eufraat) the most successfull dressage horse in the whole KWPN stock breeding.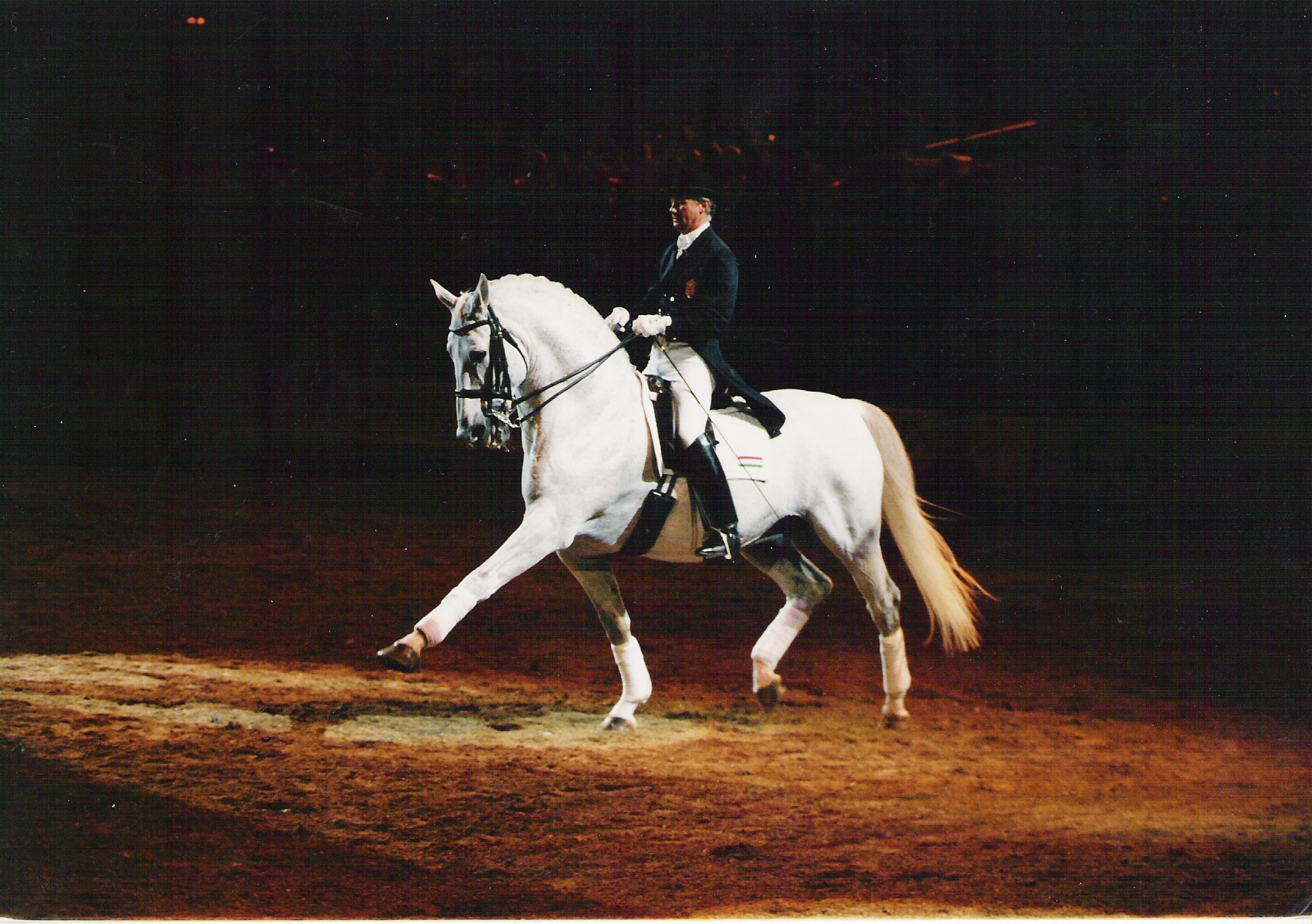 Aktion was the most efficient Hungarian dressage horse, who was being allegiant companion of Gyula Dallos for 15 years long and they reached extraordinary results in the dressage. Unfortunately Aktion met with bad success in the Olympics, he got virus pneumonia in Barcelona and he was found lame after a hock assay in Atlanta. He has more than 800 offspring, most of them are in Holland, Germany and Hungary. More than 60 progenies of him are showed in 4th level and 12 progenies are showed in International Grand Prix level (ie.: Halla Utopia, Galliano, Finesse, Fellini, Ralph Lauren ...)
---
Euro dressage news:
Dutch Warmblood Breeding News
KWPN Foundation Stallion Aktion Passed Away
"The Grand Prix Dressage stallion Aktion has passed away at the age of 21 at 10th of May in 2003. World famous as the steady partner of one of the first Kur to Music star riders, the Hungarian Gyula Dallos, Aktion has been the most successful KWPN breeding stallion in the competition ring, besides Olympic Ferro. Known in the arena as Babolna Aktion, the dapple gray stallion won bronze medal in the kur at the 1993 European Dressage Championships in Lipica, Slovenia. At the 1994 World Equestrian Games, Aktion and Dallos finished seventh. Aktion won multiple World Cup Qualifiers and has over 100 Grand Prix victories on his list of achievements.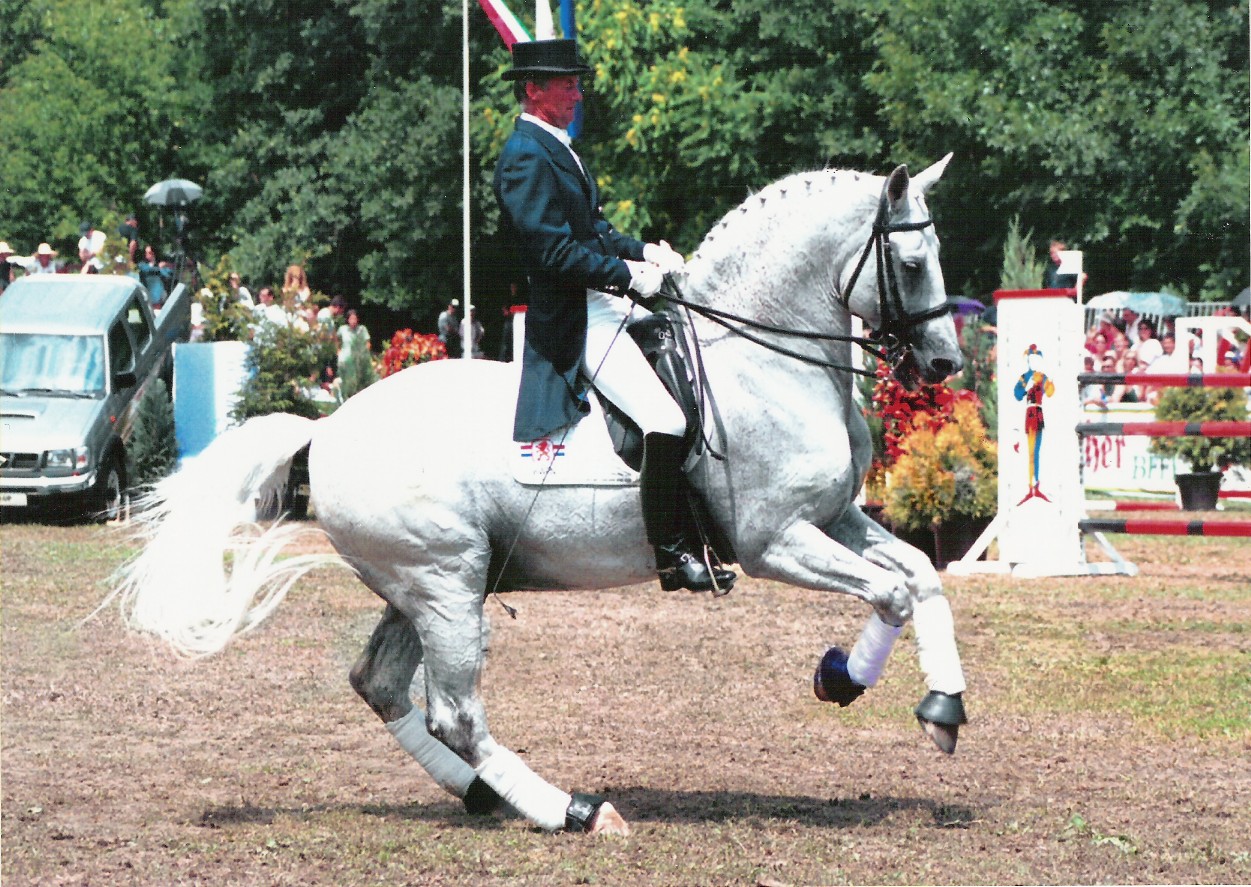 Chris Hector of the Horse Magazine wrote about Aktion: "Aktion was just amazing at the World Championships in 1994 at The Hague and again at the Atlanta Olympics in 1996, under Hungarian rider, Gyula Dallos. Aktion brought a new meaning to piaffe and passage."
Aktion was born in 1982 and was by Pion out of an Akteur dam. At the age of 17, Aktion was proclaimed Keur Preferent Stallion at the 1999 KWPN Stallion Licensing. 1999 was hist last year of competition before he retired and devoted the rest of his life to breeding." (reference)
---
Euro dressage news:
Dutch Dressage News
Aktion promoted as "Keur"stallion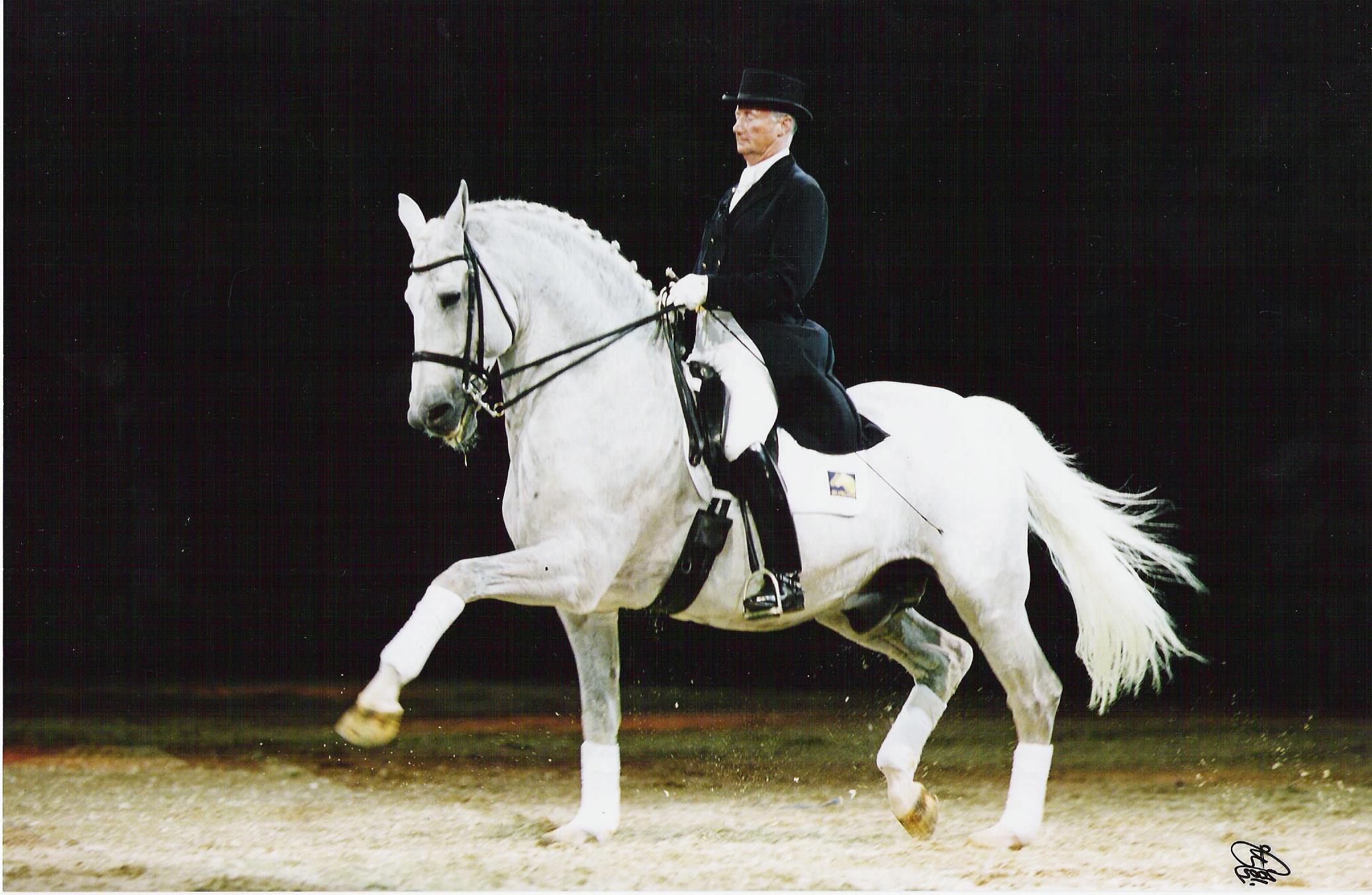 "The 17 year old white stallion Aktion (by Pion x Akteur) has received the "keur"predicate of the KWPN stallion approval commission. This incredibly popular stallion achieved many awards under the Hungarian Gyula Dallos. Aktion's descendants are especially wanted in the USA for their great rideability.
Olivi (by Jazz x Aktion) is sired by Aktion's most successful descendant brood mare Halla Utopia. Olivi got approved for the KWPN studbook in 1998 " (reference)
---
Euro dressage news:
2000 World Cup Finals

Aktion Retires From Sport at Indoor Brabant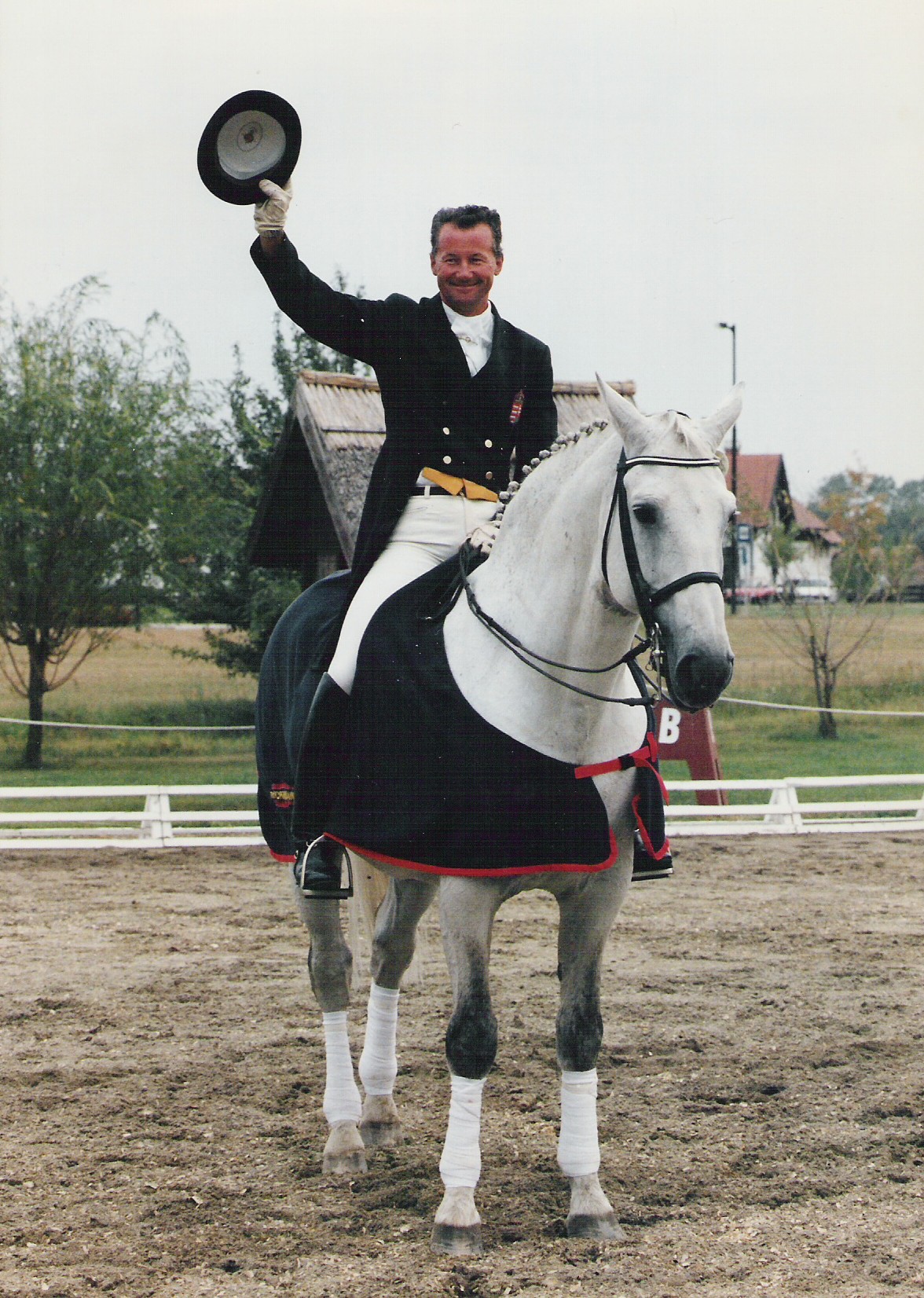 's Hertogenbosch, NED - Living legend "Aktion" will resign from his function as international show horse at Indoor Brabant. Hungarian Gyula Dallos will bring his KWPN approved stallion to 's Hertogenbosch where the white prince of the freestyle will say good bye to his competition career.
Born in 1982, Aktion was bred by Berend Ridder from Harkstede. At age two and a half he got licensed for the KWPN studbook and from his first three breeding years more than 50 of his get showed up to Fourth Level. Aktion's most famous descendant is without a doubt Berkenhorst Galliano, also competing at Indoor Brabant under the Dutch Barbara Koot.
Aktion will come to Den Bosch, not to compete but to say good bye to the crowds. Sired by Pion, the white prince of the freestyle has had enough after six world cup finals, six world championships and five European championships. For ten years Aktion competed at Grand Prix level and gained fifty victories. The apex of his career was most likely the bronze medal at the 1993 European Dressage Championships in Lipica, Slovenia (reference)
---
Pion not only sired the KWPN approved stallion Argus, but also the KWPN approved grey stallions Aktion/keur and Democraat. Aktion performed at Grand Prix level Dressage and Democraat perfomed high at both Dressage as well as Show Jumping. The KWPN has placed both stallions in their TOP-TEN index for dressage stallion. (reference)